THE PATH
Think of the happier times we've had,
and the yesterdays gone bye.
The loving happy memories,
but please just do not cry.
We walked the path for years my friend,
some good times, and some bad.
So today I begin a new journey,
but for me do not be sad.
I must walk this path alone,
but my health will be renewed.
And on some brighter tomorrow,
I will once again be with you.
The saddest part of this you see,
is watching my Daddy cry.
And what a special bond we share,
my loving Daddy and I.
Please just stand beside me,
no tears within your eyes.
Give hugs, and gentle whispers,
as you softly say goodbye..

TEARS LIKE RAINDROPS

Tears will fall like raindrops,
across the world today.
A gentle loving girl we've shared,
is going on her way.
No more pain will she be suffering,
she goes with so much love.
Beautiful wings she will be given,
where she watches from above.
I hear her gentle whispers,
of please don't cry for me.
I'll always walk beside you,
and this you must believe.
Paw to paw we will be standing,
and sharing in this pain.
Heart to heart each one is crying,
tears falling with no shame.
Goodbye is always hard to say,
but final it wont be.
Someday we'll walk together again,
into sweet eternity..

Oh wispy clouds that waft lovingly around the paws of the ones we love.
Always shall you be the shroud that envelopes
those who are in your trust forever and one day.
and so it is said that ONE shall come into the twilight
of the valley of my rainbow
and the search shall be ended
and time will begin once more.

For the family of Mandella Cheyenne, i Lobo don dedicate this poem from the heart of me and Shewolf Linda.
GO ON
WHEN YOU'VE LOST LOVE,
AND TEARS ARE IN YOUR HEART
PAIN IS ALL AROUND YOU,
AND THERE IS NO NEW START.
THERE'S NO CHANCE TO LIVE AGAIN,
THE LIFE THAT IS PAST.
FOR WHAT IS DONE IS DONE,
THE DIE HAS BEEN CAST.
ALL THE WORLD IS SADNESS,
BUT EACH ONE HAS THEIR PART.
YOU TOO, WILL LEARN TO LIVE WITH,
THE TEARS THERE IN YOUR HEART.
WITH THE PAIN THAT SURROUNDS YOU,
AND THE ANGUISH YOU FEEL.
NOT ONE THERE IS WHO KNOWS,
THE TEARS THERE ARE REAL.
BUT, GO ON YOU MUST,
AND, GO ON YOU WILL.
EVEN THOUGH YOU'VE LOST LOVE,
AND THE TEARS REMAIN THERE STILL.
FOR TIME IS A HEALER,
WHEN YOU FINE THE END IN SIGHT.
THERE'S ALWAYS FAITH AND HOPE,
TO SEE YOU THROUGH THE NIGHT.
TO SPEED YOU ON YOUR FLIGHT.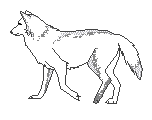 for the love of HE that loves the red red rose. may he ever sleep beside it.