THIS PAGE IS FOR A CARING HELPFUL WOLF LADY, PEACEWOLF AKA PRISS
FROM MY HEART TO HERS
ALL FOR THE LOVE OF JESSIE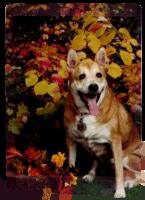 A Love Story Jessie and Priscilla
The Joining of our Two Souls, Jessie and Priscilla.
My Mum found a 5 week old tan/wht puppy in the gutter one day and brought her home. She tended to the cut above her eye and was going to keep her but Mum's toy fox terrier was afraid of this rambunctious puppy. Alfie, the Shep X liked her even tho she used to hang on his tail. Mum gave the puppy to me, my very first dog all of my own, and I named her Jessie. She was spayed, shots etc. We did all the fun things we could together, park, pet store, car wash and she went on vacation with me, mostly to Northern California, Monterey, Carmel. In the Summer we went to Big Bear Lake in the mountains and Jessie got to see her first snow, In June if you please. I remember well how many times I came home to the rug pulled up in the corner, Kleenex all over the house, I just had to laugh, she must have had such fun shaking that box till the tissues came out and she went on to the next monster hiding in the box! My Jess was bored even with the twice daily walks and playing ball. Since Mum loved her, I had wanted Mum to stay involved in her life so I asked Mum to visit her during the day and spend some time with her, Dad came sometimes too, letting her play in the spray of the hose when it was a hot day. Mum also cleaned up a little too which I wasn't about to object to. < On Jessies' birthday, 4/1/88, and every year thereafter we celebrated. I took the day off work and Jess opened her presents by tearing off the wrapping paper. She did the same at Christmas too, I so enjoyed watching her, This was my child, I had no other and she was so in tune with me and me her. We were joined at the hip then and forever. Filet Mignon and potatoes was her birthday dinner every one of the 15 1/2 years she was with me. When she was 6 1/2 she tore her cruciate ligament playing ball. She had surgery and recovered quite well. 1 1/2 years later she tore the other cruciate and we fixed that too. She was a little trooper thru it all. I loved her so much- she saw only the best in me, no restrictions or conditions. My little girl taught me so much, her openness, protectiveness, loyalty and compassion to all living things were my example to follow. She never harmed a soul in her life, she loved every creature, even our Feral Kitties who resided in the garage, at Kitty Kondo, in her bathroom, on her couch, at her water dish. One picture I wish I had was of Jessie in the bathroom touching noses with one of my feral kitties, that big dog nose and little kitten nose touching was one of the sweetest things I have ever seen. At age 10 she was diagonosed with Degenerative Disc Disease in her spine, she was having difficulty getting up and down and walking for long distances and stopped playing more quickly. Through the vet exams,, MRI scans, X-rays, physical manipulations she uttered nary a sound, she was so brave, this little girl of mine. I was and still am so proud of her. Meds. didn't work, upset her tummy. We built ramps for her, heating pads, massage until we found Dr. JoAnn Boyer, a veterinary accupuncturist who is an angel and performed a miracle for my Jess pup. During this time Jessies' mobility improved drastically, her skin infections from allergies were gone, she just had an overall improved sense of well being. This dog, who had been unable to walk 50 feet was now walking 1 mile with a little rest break in between. I am so grateful that Dr. Boyer was sent into our lives. She saw Jessie thru the removal of a cancerous lump in her belly, an Hemangiopericytoma, which the Specialist removed. And the Cancer never came back. I had decided not to do radiation becos I thought it was too hard on her. 10 treatments, all under anaesthesia.Becos of her Disc disease and arthritis in her knees where she had her surgery, she had a really painful recovery period. I even thought I was going to have to let her go becos no one seemed able to relieve her pain. Again, our guardian angel, Dr. Boyer saved her, using muscle relaxers and Morphine to break the pain cycle. This lady will always mean the world to me. She gave me 3 more years with my Jessie. Sadly there came a time, at 15 1/2 when twice weekly accupuncture didn't help much and I was faced with Jessies' mortality. Jess had been with me through everything, my romantic breakups, she was an excellent judgeof character, if Jessie din't like them and them her, they were out.She started losing control of her bowels so I just put hospital pads down on the bed, which was now on the floor so she could get into bed by herself. Her pride was important to me and I wanted to retain that for her. On Sept. 16th 2003. I came home to find Jessie just sitting on the floor by our bed, the non-slip scatter rugs in the kitchen were all pulled up as if she had used them to try to get up. She had been diagnosed with Mital Valve Regurgitation and had had some cardiac faints where she just dropped where she stood...The first time, at the park, I thought she was dying, I was so scared. So many kind people stopped to help this sobbing lady in the grass with her dog. I called Dr. Boyer and she met me at the clinic. We tried everything to no avail. My little girl couldn't walk-her hind quarters just wouldn't support her. We worked with Jess for a week, I had to try everything.On that last morning, Wed. 9/24/03, Jessie would not even eat her steak and baby food. I laid on the floor next to her, looked into those beautiful brown eyes and knew she was tired of fighting. I had to let her go. Dr . Boyer put in an IV catheter, valium, saline to keep the line open and at my consent, gave Jessie the overdose of barbituates. She looked up at Dr. Boyer then me and closed her eyes, letting out one big sigh which I breathed in as her face and mine were together. I told her I loved her so much, to go and play with all the other doggies, to go be with Mum, that I wouldn't be long. We talked about what a super, super dog Jessie was. We cried together and hugged each other. My Jessie was gone and immediately the 2nd guessing and guilt started. I spent a little time with her, looking at my baby lying so still on the ground. I left her and arranged for her cremation. One week later, when I got her ashes back it hit me full force. My only thought as I hugged her Urn, sobbing was, "this is all thats left of MY Jessie"...I've cried every day since then. She was my doggie soulmate and a big part of me was missing. Also, there was nobody for me to look after, I had all this free time. The apartment was so empty.. I still celebrate her birthday and the anniversary of her crossing is coming up 9/24/04.Dr. Boyer had given me a memorial candle with the Petloss.com address on it. It took me 5 months to come here and I'm so glad I did. All of the people here understand and don't care how long it takes, unlike friends who forget I ever had my Jessie. I feel a desire to try to help others through these miserable times when we lose our little ones and I hope that I honour my Jessikensies' memory by being here... Thank you for reading my long post. It is hard to squeeze 15 1/2 years of memories into a short tribute................................................My beautiful little girl, you gave freely of your love and wisdom, teaching me the joy and agony of loving and losing your Soulmate.. I will hold you always in my heart and I will see you again at the Bridge. Please look for me, my little love. Your Mum.

JESSIE

To Where You Are
Who can say for certain
Maybe you're still here
I feel you all around me
Your memories so clear
Deep in the stillness
I can hear you speak
You're still an inspiration
Can it be
That you are mine
Forever love
And you are watching over me from up above
Fly me up to where you are
Beyond the distant star
I wish upon tonight
To see you smile
If only for awhile to know you're there
A breath away's not far
To where you are
Are you gently sleeping
Here inside my dream
And isn't faith believing
All power can't be seen
As my heart holds you
Just one beat away
I cherish all you gave me everyday
'Cause you are mine
Forever love
Watching me from up above
And I believe
That angels breathe
And that love will live on and never leave
Fly me up
To where you are
Beyond the distant star
I wish upon tonight
To see you smile
If only for awhile
To know you're there
A breath away's not far
To where you are
I know you're there
A breath away's not far
To where you are
JOSH GROGAN SONG

EMPTY
LIFE SOMETIMES SEEMS AN EMPTY AND USELESS THING.
TIME GOES BY WITHOUT A MEANING.
THOUGHTS DRIFT AND GO WITH THE WIND.
ALWAYS A MOVING THING.
THE HEART KEEPING YOU GOING ANOTHER TOMORROW.
AS TIME GOES BY, IT BEATS ONLY FOR THE NEXT DAWN.
INSIDE THE HURT SWELLS, AND FLOWS OUT IN DROPS OF TEARS.
LIFE WILL, AND MUST STILL GO ON.
BUT, THE HURT, AND ACHE WILL ALWAYS,
REMAIN AS A REMINDER.
LIFE IS ONCE AGAIN EMPTY.

LoboWolf

For the family of PEACEWOLF and JESSIE, i Lobo don dedicate this poem from the heart of me and Shewolf Linda.
HOLD ME JUST LONG ENOUGH
I REALLY NEEDED THE LOVE THAT YOU GAVE ME,
AND ALL I EVER REALLY WANTED WAS JUST FOR YOU TO STAY.
AND I GUESS I REALLY NEED FOR YOU JUST TO HOLD ME,
COULD YOU HOLD ME LONG ENOUGH FOR THE HURT TO GO AWAY.
YOU TOLD ME THAT MORNING THAT YOU WERE LEAVING,
AND I THOUGHT THAT MY WHOLE WORLD WOULD END.
I'VE SPENT A LOT OF TIME JUST THINKING BOUT YOU,
YOU KNOW YOU WERE ALWAYS, MY BEST FRIEND.
NOW YOUR ARMS AREN'T HOLDING, THE WAY THAT THEY SHOULD BE,
AND I GUESS IT WILL ALWAYS, BE THIS WAY,
BUT I CAN STILL REMEMBER THE LOVE THAT WE HAD,
SO HOLD ME LONG ENOUGH FOR THE HURT TO GO AWAY.
I LOVED TO TRAVEL, WITH YOU AT MY SIDE,
BUT SOMETIMES WE'D JUST STOP FOR THE NIGHT.
WE'D BUILD US A CAMPFIRE, AND JUST STARE AT THE FLAMES,
OR SOMETIMES WE'D SING SONGS, OR WE'D JUST FIGHT.
YOU ALWAYS WANTED, A SONG JUST FOR YOU,
SO I WROTE THIS NEW SONG, AFTER THINKING FOR AWHILE.
I KNOW IT'S NOT HAPPY, IT'S JUST ANOTHER SAD SONG,
BUT I CAN'T WRITE FOR HAPPY, WITHOUT YOUR SWEET SMILE.
COME LOVE ME ONE TIME, THE WAY THAT YOU USED TO,
HELP ME LAUGH ALL THE HURTING AWAY,
WE COULD GET HIGH ON THE LOVE WE ONCE HAD,
AND THIS POOR HEART IS THE PRICE THAT I'D PAY.
I REALLY NEEDED THE LOVE THAT YOU GAVE ME,
AND I REALLY WANTED YOU TO STAY.
I GUESS I REALLY NEEDED FOR YOU JUST TO HOLD ME,
SO COULD YOU HOLD ME LONG ENOUGH, FOR THE HURT TO GO AWAY.
I Love You Jessie, please come hold me long enough for the hurt to go away.
LoboWolf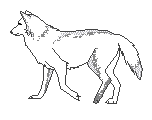 for the love of HE that loves the red red rose. may he ever sleep beside it.