THE GREAT LOVE OF CAROLYN, THE GREATEST LOVE ONE CAN KNOW.
ALL FOR THE LOVE OF A PUPPER.
&nbsp: &nbsp: &nbsp: &nbsp: &nbsp: &nbsp: &nbsp: &nbsp: &nbsp: &nbsp: &nbsp: &nbsp: &nbsp: &nbsp: &nbsp: &nbsp: &nbsp: &nbsp: &nbsp: &nbsp: &nbsp: &nbsp: &nbsp: &nbsp: &nbsp: &nbsp: &nbsp: &nbsp: &nbsp: &nbsp: &nbsp: &nbsp: &nbsp: &nbsp: &nbsp: &nbsp: &nbsp: &nbsp: &nbsp: &nbsp: &nbsp:
"A LOAN FROM GOD"
God promised at the birth of time, A special friend to give, Her time on earth is short, He said, So love her/him while she/he lives. It may be for eight or ten years, Or only two or three, But will you, till I call her/him back, Take care of her/him for Me? A wagging tail and cold wet nose, And silken velvet ears, A heart as big as all outdoors, To love you through the years. Her puppy ways will gladden you, And antics bring a smile, As guardian or friend she will, Be loyal all the while. She'll bring her charms to grace your life, And though her stay be brief, When she's gone the memories, Are solace for your grief. I cannot promise she will stay, Since all from earth return, But lessons only a dog can teach, I want you each to learn. I've looked the whole world over, In search of guardians true, And from the folk that crowd life's land, I have chosen you. Whatever love you give to her, Returns in triple measure, Follow her lead and gain a life, Brim full of simple pleasures. Enjoy each day as it comes, Allow your heart to guide, Be loyal and steadfast in love, As the dog there by your side. Now will you give her all your love, Nor think the labor vain, Nor hate me when I come to call, To take her back again? I fancy each of us would say, Dear Lord, thy will be done, For all the joys this dog shall bring, The risk of grief we'll run. We'll shelter her with tenderness, We'll love her while we may, And for the happiness we've known, Forever grateful stay. But should the angels call for her, Much sooner than we've planned, We'll brave the bitter grief that comes, And try to understand. If by our love we've managed, God's wishes to achieve, In memory of her that we have loved, And to help us while we grieve; When our faithful bundle departs, This earthly world of strife, We'll get yet another pup, And love him all his life. Author Unknown

WHEN TOMORROW STARTS

When tomorrow starts without me, And I am not there to see,D
If the sun should rise and find your eyes, All filled with tears for me,
I wish so much you wouldn't cry, The way you did today,
While thinking of the many things, We didn't get to say,
I know how much you loved me, As much as I loved you,
And each time that you think of me, I know you'll miss me to,
But when tomorrow starts without me, Please try to understand,
That an angel came and called my name, And took me by the hand,
And said my place was ready, In heaven far above,
And that I'd have to leave behind, All those I dearly love,
But as I turned and walked away, A tear fell from my eye,
For all my life I'd always thought, I didn't want to die,
I had so much to live for, So much left yet to do,
It seemed almost impossible, That I was leaving you,
I thought of all the yesterdays, The good ones and the bad,
I thought of all the love we shared, And all the fun we had,
If I could relive yesterday, Just even for a while,
I'd say good-bye and kiss you, And maybe see you smile,
But then I finally realize, That this could never be,
For emptiness and memories, Would take the place of me,
And when I thought of all the worldly things, I might miss come tomorrow,
I thought of you and when I did, My heart was filled with sorrow,
But when I walked through Heaven's gates, I felt so much at home,
When God looked down and smiled at me, From His great golden throne,
He said, "This is eternity, And all I've promised you,
Today your life on earth is past, But here life starts anew".
Author Unknown


SOMETIMES, AS WE WALK DOWN THE ROADWAY OF LIFE,
WE FIND IT NARROWS BEFORE OUR EYES.
OTHER TIMES THE ROAD MAY GROW INTO A WIDE EXPRESSWAY.
WE WALKED DOWN THIS ROAD OF LIFE, FROM TWO DIRECTIONS,
AND A COLLISION OCCURRED.
LOVE COMPARED TO A ROADWAY CAN SOMETIMES SEEM JUST
AS HAZARDOUS, PARTICULARLY IN THE NARROW PARTS.
MY LOVE FOR YOU CANNOT BE CONSIDERED NARROW,
THOUGH AT TIME IN THE PAST IT HAS BEEN SO,
AND BADLY IN NEED OF REPAIR.
THANKS TO PROGRESS MY LOVE FOR YOU HAS GROWN
INTO A WIDE, STRAIGHT, EXPRESSWAY.


For the family of Nugget, i Lobo don dedicate this poem from the heart of me and Shewolf Linda.
DOES IT HURT YOU
I'VE BEEN FEELING SO SAD,
SINCE THE DAY YOU SAID GOODBYE.
TELL ME, DOES IT HURT YOU,
TO SEE ME SIT AND CRY.
TELL ME NUGGET DOES IT HURT YOU
TO SEE ME SIT AND CRY
I WISH THAT WE COULD
GIVE LOVE ANOTHER TRY
JUST TELL ME THAT YOU LOVE ME
PLEASE TAKE ME BACK AGAIN
BUT IF YOU DON'T WANT ME
WON'T YOU PLEASE JUST EXPLAIN
WELL YOU JUST UP AND LEFT ME
YES YOU JUST SAID GOODBYE
YOU GAVE ME NO REASONS
YOU DIDN'T TELL ME WHY
I KNOW THAT I SHOULD GO
YES I SHOULD LEAVE BUT THEN
I JUST SIT AND CRY
OVER THINGS THAT MIGHT HAVE BEEN.
OH WHY DID YOU DO IT
WHY DID YOU SAY GOODBYE
DOES IT HURT YOU, LIKE IT HURTS ME
WHEN I SIT AND CRY.
TELL ME NUGGET, DOES IT HURT YOU
TO SEE ME SIT AND CRY.
A BLESSING

It seems that God sends blessings
In very mysterious ways.
He always finds the perfect time
To brighten all our days.

He finds someone to be our friend,
Someone who really cares,
A friend to fill the lonely hours;
An answer to all our prayers.

He blesses us all with laughter
And the gift of understanding,
To brighten up the lives of those
Who's needs seem so demanding.

The Lord, He blessed my heart
With many a wonderful friend.
I thank you, Lord, most humbly
For the happiness they lend

Author Unknown

THE COWBOY AND THE PREACHER

An old cowboy and a preacher met on the prairie one day,
One ridin' a buckskin- the other a bay.

They squatted in the shade of a lone cedar tree
Scratchin' the dirt with a stick; contemplatin' you see.

Comparing their lives, and the old cowboy, he spoke
Of the brands he had rid for, the horses he'd broke

Of the herds he had gathered and held at all cost,
Of hours spent riding when a few head were lost.

"You'd give up your life when you rode for the brand,
'Cause of this we buried many a good hand.

But as you can see I'm well past my prime
The boss says soon I'll have to draw up my time.

What can I do? I'm too tough to cry,
But I'm too old to work and I'm too young to die."

The preacher stirred the dirt with his stick for awhile,
Then looked the old cowboy in the eye with a smile.

And said, "I too ride for the brand,
The scars are the nail holes in the palms of His hands.

I've gathered a herd and hold for my boss,
I'm always out looking for those who are lost.

Many have given their lives for this brand,
We all may be called on to take up a stand.

But you're never too old to ride with my crew,
When you sign on here you're made as if new."

Well, the old cowboy that day hired on for a new boss
And his foreman's the one who died on the cross.

And he can ride happy to the end of his days
'Cause there's no end to the gather of the lost and the strays

author unknown




YELLOW EYES

We've roamed the wild country My beautiful yellow eyes,
Side by side we've hunted
Shadows dancing on northern skies.
There have been times of plenty
We were content and serene,
Peacefully sleeping
Dangers few and far between.

We've also known much hunger
Ribs protruding from each side,
Mournfully we howled
When our starving cubs had died.

And then there was our first winter
Romping thru the glistening snow,
Tasting each crystal snowflake
Falling gently to and fro.

Ah my dear, sweet yellow eyes
I've known no greater love,
Without you, I am nothing
Our wild souls are one.

And now you lay there dying
Steel jaws upon your frame,
Life's blood slowly seeping
I whimper your sweet name.

Helpless, I watch you struggle
Chest heaving with labored breath,
Steel jaws clenching tighter
Winds whisper the song of death.

The blood has now stopped flowing
I know the time is near,
And you will forever leave me
My love, my life, my dear.

And now my world is silent
Your struggles now have ceased,
I lay my head upon you
And know you are at peace.

Perhaps your soul has lifted
To skies where eagles soar,
And there you'll greet your brothers
To run with them forever more.

And someday I shall find you
In the heaven's so far above,
And when our wild soul's unite
There'll be no greater love.

By Joan L. Van Vels
(Submitted but not written by SirVGaia)
AT Petloss message board.

Whispering Wind
There's a wind that comes to haunt me
it chills me to the core,
a whispering wind ,a gentle wind
that talks straight to my soul.
There's a wind that comes to haunt me
it takes me back in time
and shares with me dear memories
of another life of mine.
There's a wind that comes to haunt me
it fills my heart with joy
as once again I feel the love that's
deep down in my soul.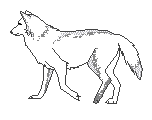 for the love of HE that loves the red red rose. may he ever sleep beside it.